The lag between lunch at school and dinner at home can feel like a lifetime to kids. The after-school snack, therefore, is a time-honored tradition in many homes. 
But how do you choose a snack for your kids that will fill them up enough to stop the "when's dinner ready?" nagging without spoiling their appetites or loading them up on empty calories. 
A group of nutritionists shared the general guidelines and kid-approved picks they use in their own homes for after-school snacks.
Fruit
"For an after-school snack, my kids have enjoyed fresh fruit like banana or any combination of cut-up cantaloupe and grapes and berries (e.g., raspberries, blueberries or strawberries) plus warm cashews. They've also enjoyed Triscuits and cheese, and plain low-fat yogurt with berries, or unsweetened applesauce and a sprinkle of cinnamon." ― Elisa Zied, a certified dietitian nutritionist and author of Feed Your Family Right!
"An afternoon snack at our house is usually either a smoothie or fruit with protein, such as apples with peanut butter or orange and cheese slices. Other favorites include yogurt-based Popsicles, trail mix or homemade popcorn." ― Kath Younger, a registered dietitian and blogger at Kath Eats Real Food 
"I always offer an after-school snack to my boys each day. If I don't, the cries of 'Mom! When is dinner going to be ready?' start earlier than my sanity can handle. I try to focus on a balance of protein and carbs, offering a variety of choices throughout the week, and I try to make sure it includes fruit to help boost their fruit/veggie count for the day. That may mean a combo of cheese and apple slices, peanut butter and banana or even something like a simple trail mix of whole-grain cereal, raisins and nuts." ― Regan Jones, a registered dietitian and founding editor at Healthy Aperture
Hummus
"I'm a big believer in the concept of small, frequent eating. Many schools start lunch too early in the day and don't have opportunities for eating after that. If kids are starting lunch at 10:30 a.m. and don't have dinner until 6 p.m., after-school snacks should be an option. I prefer to fill them up on vegetables and fruits during this time of day, with moderate amounts of proteins and fats that can be obtained from a slice of cheese, peanut butter or milk. Generally, kids don't eat enough produce, so my children are typically offered sliced bell peppers or cucumbers with hummus or cheese." ― Rick Hall, a clinical professor and registered dietitian at Arizona State University
Tea
"Since my kids are 12, 10, 7 and 5, they do a pretty good job of getting their own after-school snacks from the fruit bowl or the snack cupboard containing: graham crackers, peanut butter, pecans, raisins, prunes and peanuts in the shell. The big thing I encourage is drinking water or herbal tea with a drizzle of honey. They don't get much time to drink many liquids at school. Tea with honey helps them drink more to stay hydrated in the winter and chilly spring when they aren't 'hot and thirsty' like in the summer. Plus the honey soothes their sore throats when they have colds and has antioxidant polyphenols, which may help boost their immunity to prevent future colds." ― Serena Ball, a registered dietitian and health blogger at Teaspoon Of Spice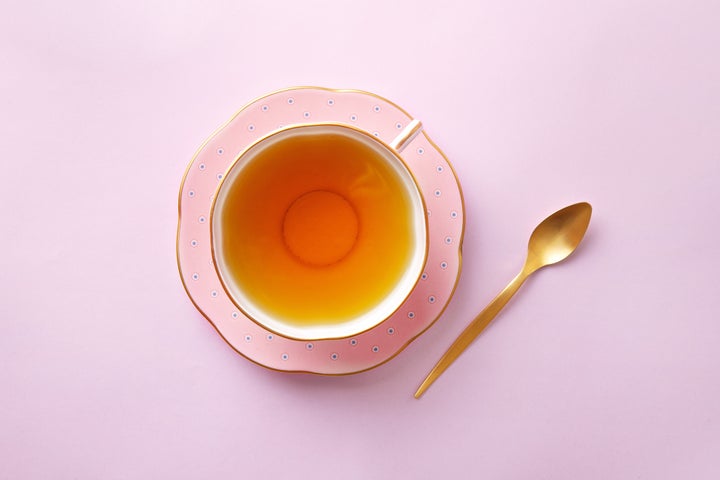 Yogurt
"I make low-fat Greek yogurt dips with fresh or dried herbs. The herbs provide potent antioxidants and lots of flavor without added salt. My daughter also loves red bell pepper slices or baby sweet peppers with dip." ― Melissa Halas-Liang, registered dietitian and founder of SuperKids Nutrition
"A favorite is fruit and yogurt, either separately, as a dip, or in a sort of 'parfait.'" ― Leccisi
"After school, my kids will grab a yogurt or a few cookies, but I generally serve them dinner around 4:30 p.m. so they aren't snacking for hours between getting home and having their next meal! That's my strategy, but I work from home, so this method won't work for everyone." ― Abby Langer, a registered dietitian and founder of Abby Langer Nutrition
Carbs
"After-school snacks can be tricky because you don't want them to eat so much that they're not hungry for what's probably their main meal of the day … When my kids played sports, after school they needed a heartier but high-carb snack such as a fruit smoothie with Greek yogurt, oats, a few nuts or peanut butter powder, a grilled cheese sandwich or a bowl of cereal with fruit and milk." ― Bridget Swinney, a registered dietitian and founder of Eat Right Mama
Treats
"The old-fashioned favorite is homemade cookies (ginger, chocolate chip or oatmeal) with a glass of milk or hot chocolate." ― Leccisi
Popcorn
"I have four kids ages 10 to 17, and I give them various snacks. I sometimes make organic air-popped popcorn with Himalayan pink salt and Barlean's butter-flavored coconut oil." ― Rebecca H. Lazar, a registered holistic nutritionist and founder of Real Health and Fitness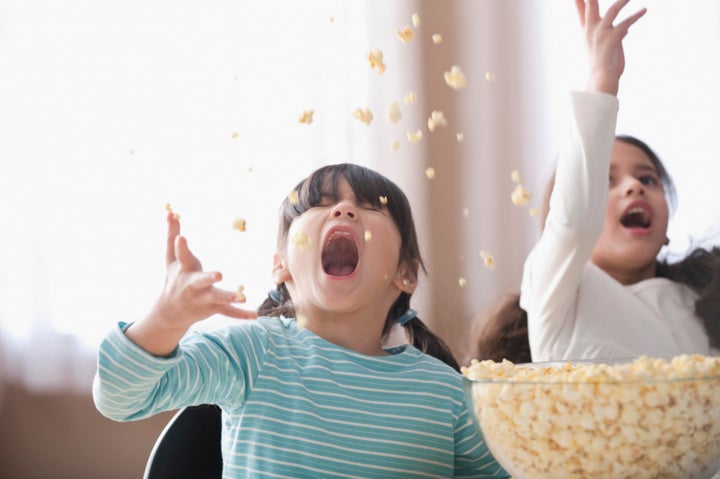 Peanut Butter
"A classic is a peanut butter sandwich. Other favorites include fruit pieces like apple or pear with peanut butter as a dip or spread and crackers with cheddar cheese and fruit pieces (apples, pears or clementines), with some olives and pickles on the side." ― Leccisi 
"If we are on the go I'll split a peanut butter sandwich between my toddlers. I always try to pair a protein choice with either a fruit, vegetable, or whole grain so the snack isn't too filling, but is just enough to hold my children over until dinnertime." ― Katie Serbinski, a registered dietitian and founder of Mom to Mom Nutrition
Protein Shake
"Sometimes I'll make a vegan chocolate protein shake with banana and almond butter or another type of smoothie … Other snacks are cut-up fruit, or Siggi's Icelandic yogurt with organic granola added as a topping." ― Lazar
Milk
"My daughter isn't a big milk fan, so I often make low-fat milk and add a little sugar and vanilla extract. I use a tiny handheld milk frother. It makes it seem fancy but it takes seconds to make and it's easy to wash. I'll serve that with any fresh or frozen fruit (served cold)." ― Halas-Liang
Sweet Potato
"My daughter is 13 and prefers to make her own snacks. Her two go-tos are half a baked sweet potato drizzled with natural peanut butter and a side of mixed berries or apple slices with almond butter and cacao powder sprinkled on top." ― Jacqueline Carly, an integrative and functional nutritionist and creator of Get Planty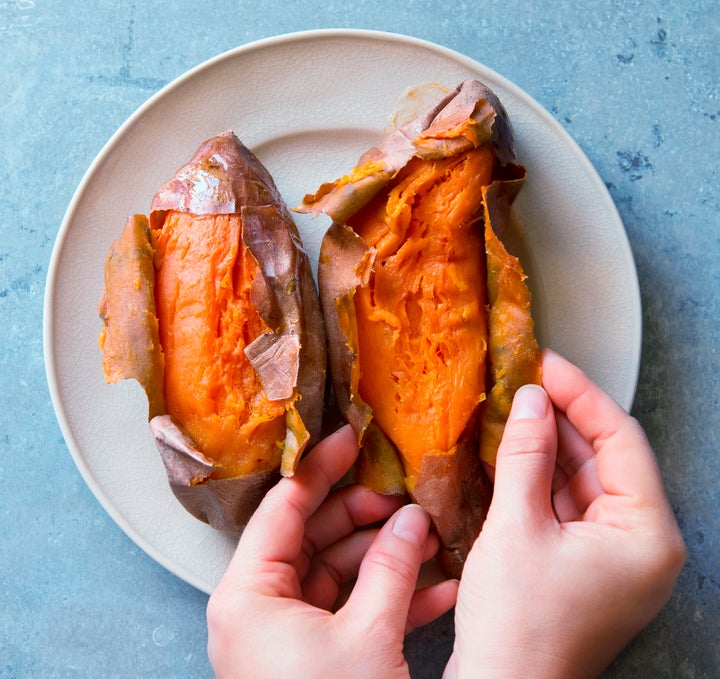 Sandwich
"If my teenage boys are really hungry, I'll make an organic mozzarella sandwich with whole-grain spelt bread." ― Lazar
Car-Friendly Food
"I have three kids, and they all have slightly different food preferences. We generally pick them up with the minivan, at least in the winter months, so I choose snacks that are both nutritious as well as non-messy. For my 3-year-old, I often bring shelled pistachios in a snack cup or a banana. My 6-year-old son is ravenous by the time we get him, so I'll bring him a cheese stick and a granola bar or goodnessKnows snack squares, something with protein. My almost 9-year-old is a carb lover and also gets car sick easily, so I bring her some type of cheddar cracker or veggie chips. She also really likes dried seaweed. When it's hot outside, they tend to be more thirsty than hungry, so an organic juice, like Capri Sun, is often what I'll bring them." ― Frances Largeman-Roth, a registered dietitian nutritionist and author of Eating in Color
'Mini Meals'
"Snacking has definitely taken on some negative connotations since typical snack foods tend to be synonymous with foods high in fat, sugar and salt. However, I am actually a big proponent of snacks as a way to maintain energy levels and satiate hunger between meals. I think of snacks as mini-meals, meaning, smaller portions but still containing a healthful variety of foods. When it comes to after-school snacks, I generally stick to the following criteria: no more than 200 calories, at least 2 grams of fiber per serving, low in saturated fat (percentage daily value of 5 percent or less per serving), low in sodium (140 milligrams or less per serving), low in added sugar (6 grams or less per serving) and at least two food groups per snack." ― Ilaria St. Florian, a clinical dietitian at Stamford Hospital
These quotes have been edited and condensed for clarity.